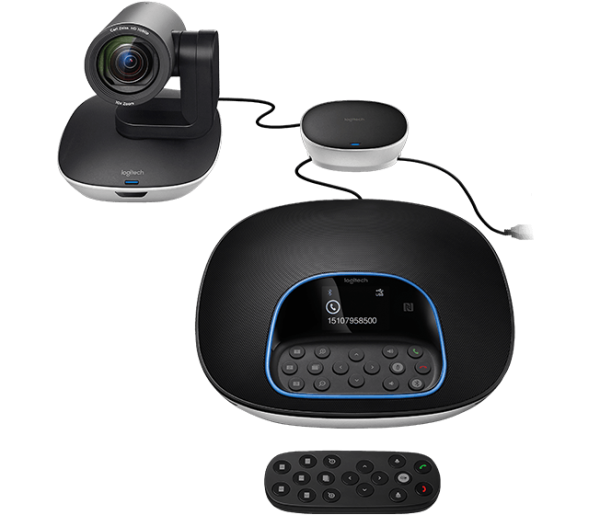 Logitech Group
$1,899.00
Complete audio/video conferencing bundle for big rooms: HD video camera, speakerphone.
Optimized for up to 20 participants: Extended 28 ft. audio range and 90-degree field of view for large group conferences
Business grade speakerphone and expansion mics: Plug-and-play HD audio allows everyone around the conference table to clearly hear and be heard
Description
GROUP
Affordable video conferencing for mid to large-sized meeting rooms
See every detail with HD video and 10x zoom
Works with your meeting and video conferencing applications
Crystal-clear audio for up to 20 participants
Dimensions

Camera:

Height x Width x Depth: 5.12 in (130 mm) x 7.0 in (170 mm) x 5.40 in (138 mm)
Weight: 1.31lb (585 g)

Speakerphone:

Height x Width x Depth: 9.5 in (240 mm ) x  2.5 in (65 mm ) x 9.5 in (240 mm )
Weight: 2.68 lb (1223 g)

Hub:

Height x Width x Depth: 3.75 in (94 mm) x 1.3 in (34 mm) x 2.9 in (74 mm)
Weight: 3.0 oz (83 g)

Remote:

Height x Width x Depth: 2.0 in (50 mm) x 5.0 in(120 mm) x 0.5 in (12 mm)
Weight: 2.0 oz  (51 g)

Wall/Table Mount:

Height x Width x Depth: 8.27 in (210 mm) x 4.72 in (120 mm) x 3.9 in (99 mm)
Weight: 8.99 oz (255 g)

Expansion Mics (Optional):

Height x Width x Depth: 3.30 in (83 mm) x 3.30 in (83 mm) x 0.83 in (21 mm)
Weight: 8.0 oz 230 g)

System Requirements

Windows® 7, 8.1 or 10
macOS 10.10 or higher

Technical Specifications

CAMERA

Smooth motorized pan, tilt and zoom controlled from remote or console
260° pan
130° tilt
10x lossless HD zoom
90° field of view
Full HD 1080p 30fps
H.264 UVC 1.5 with Scalable Video Coding (SVC)
Autofocus
5 camera presets
Far-end control (PTZ) of ConferenceCam product (with supported services)
Kensington security slot
Video mute/unmute LED indicator
Standard tripod thread

REMOTE CONTROL

Camera, speakerphone, and call control
5 camera presets
Docks on speakerphone
IR 8.5 m/28-foot range
CR2032 battery (included)

SPEAKERPHONE

Full-duplex performance
Acoustic echo cancellation
Noise reduction technology
Ultra-wideband audio
Pairs with mobile devices via Bluetooth and NFC
LCD for caller ID, call duration and other functional response
LEDs for speakerphone streaming, mute, hold, and Bluetooth
Tactile buttons for call answer/end, volume and mute, Bluetooth, and camera controls
5 camera presets for pan, tilt, and zoom settings
Kensington security slot

MICROPHONES

Pickup range: 6m / 20 ft
Pickup range with expansion mics: 8.5 m / 28 ft
Four omnidirectional, beamforming microphones
Frequency response: 100Hz – 11KHz
Sensitivity: -28dB +/-3dB
Distortion: <5% from 200Hz

HUB / CABLES / POWER

Central Hub connects and powers all components
Under-table mounting adhesive included
One cable to camera: 5 m / 16 ft
One cable to speakerphone: 5 m /16 ft
Extended cables available (10 m and 15 m)
One USB cable for connection to PC/Mac (2 m / 6.6 ft)
AC Power adapter with regional plugs
Power cable (3 m / 9.8 ft)

MOUNT

Dual-purpose bracket works for both wall mounting and tabletop elevation

COMPATIBILITY AND INTEGRATIONS

Plug-and-play USB connectivity
Works with most any video conferencing application or meetings service
Skype for Business certified
Microsoft Cortana® certified
Cisco Jabber® and WebEx compatible
Enhanced integration with Logitech Collaboration Program (LCP) members, including BlueJeans, Broadsoft, LifeSize Cloud, Vidyo, and Zoom

Package Contents

Camera
Speakerphone
Remote control
Two 5m / 16.4 ft cables for connection between speakerphone and hub and camera and hub
One 2m / 6.6 ft meter cable between hub and PC
Velcro for cable management
Velcro for hub to table securing
Powered hub
Power adapter with regional plugs and 3m / 9.8 ft cable
Mount
Documentation
Warranty card

Warranty Information

2-Year Limited Hardware Warranty

Part Number
Key Features
PERFECT FOR LARGER ROOMS
GROUP, our video conferencing solution for rooms that seat 14–20 people, delivers high quality HD video and crystal clear audio, allowing any meeting place to be a video collaboration space. With advanced features like acoustic echo cancellation, noise reduction technology, and intuitive controls, it's easier than ever to include everyone in the conversation.
PLUG-AND-PLAY SIMPLICITY

USB plug-and-play connectivity makes GROUP a breeze to deploy and use. Simply connect GROUP the conference room computer or your laptop through USB, and you're good to go. Use GROUP with any video conferencing software, including those you already use. For great-sounding audio calls, pair your mobile device with Bluetooth® wireless technology to the GROUP speakerphone.

OPTIONS GIVE YOU VERSATILITY

Customize the setup to match the layout and size of your room. Mount the camera on a table, tripod, or wall. Optional expansion mics extend audio coverage up to 28 feet (8.5 meters). Add an optional 33 feet (10 meter) or 49 feet (15 meter) cable to increase the reach of the speakerphone or camera.
HIGH-DEFINITION VIDEO

Bring meetings into focus with GROUP's premium lens, 10x lossless zoom, and HD 1080p/30 performance. Perfectly frame presenters and whiteboards with pan/tilt control, and zoom in for detail and clarity. GROUP's 90° field-of-view provides ideal coverage for medium and large conference rooms, with motorized pan and tilt for wall-to-wall, floor-to-ceiling coverage.
NATURAL-SOUNDING AUDIO

Everyone hears and can be heard with GROUP's full-duplex speakerphone, which delivers sound that's crisp, clear, and highly intelligible. Acoustic echo cancellation and noise reduction technology make conversations natural-sounding while reducing reverberation and ambient noise.
Additional Features
Speakerphone with Bluetooth
Hear and be heard with life-like clarity. GROUP's full-duplex speakerphone provides 360° coverage with four omnidirectional mics. Beamforming technology helps pick up speech throughout a 6m / 20 ft diameter while reducing keyboard clicks and other audible distractions. You can even pair GROUP with your smartphone or tablet to enjoy outstanding audio clarity and ample volume with mobile applications and conference calls.
Certified for Business
GROUP offers a plug-and-play USB connection to conference room computers, and is certified for Skype for Business, Microsoft Cortana®, Cisco Jabber™ compatible, and offers enhanced integration with BlueJeans, Broadsoft, LifeSize Cloud, Vidyo, and Zoom. If your preferred application can recognize a webcam, you can use it with GROUP.
Convenient Controls
GROUP's speakerphone provides a convenient dock for the handheld remote control, and features an LCD status screen and tactile buttons to mute audio, adjust volume, move the camera, and more.
Available Expansion Mics
Extend the range of the GROUP video conferencing system with Logitech GROUP Expansion Mics. Accommodate up to 20 people in one large room and make sure everyone's voice can be heard. Simply plug the microphones into the GROUP speakerphone: they are automatically recognized and configured. An indicator light shows when the microphone is muted, when a call is active, and when Bluetooth wireless pairing has begun.
Mute with Confidence
With tactile mute buttons on the speakerphone, handheld remote, and optional expansion mics, GROUP makes it easy to assure your privacy. When muted, GROUP's LED status ring lights up red, a subtle yet obvious assurance that's easily seen throughout the room.
Cabling Made Easy
GROUP's compact Hub simplifies cabling and makes it easy to run cables under tables and through conduit. Integrated data and power means that the camera and speakerphone each connect with a single cable. The included 5m / 16 ft cables give you lots of placement options, while optional extended cables offer double or triple the reach.
Field Upgradeable
With regular firmware updates, Logitech continuously improves the GROUP video conferencing experience. For example, recent updates delivered substantial improvements to automatic echo cancellation and gain control, plus upgraded beamforming and duplex performance. It's another reason why Logitech delivers the best value proposition in the industry.
Dimensions

Camera:

Height x Width x Depth: 5.12 in (130 mm) x 7.0 in (170 mm) x 5.40 in (138 mm)
Weight: 1.31lb (585 g)

Speakerphone:

Height x Width x Depth: 9.5 in (240 mm ) x  2.5 in (65 mm ) x 9.5 in (240 mm )
Weight: 2.68 lb (1223 g)

Hub:

Height x Width x Depth: 3.75 in (94 mm) x 1.3 in (34 mm) x 2.9 in (74 mm)
Weight: 3.0 oz (83 g)

Remote:

Height x Width x Depth: 2.0 in (50 mm) x 5.0 in(120 mm) x 0.5 in (12 mm)
Weight: 2.0 oz  (51 g)

Wall/Table Mount:

Height x Width x Depth: 8.27 in (210 mm) x 4.72 in (120 mm) x 3.9 in (99 mm)
Weight: 8.99 oz (255 g)

Expansion Mics (Optional):

Height x Width x Depth: 3.30 in (83 mm) x 3.30 in (83 mm) x 0.83 in (21 mm)
Weight: 8.0 oz 230 g)

System Requirements

Windows® 7, 8.1 or 10
macOS 10.10 or higher

Technical Specifications

CAMERA

Smooth motorized pan, tilt and zoom controlled from remote or console
260° pan
130° tilt
10x lossless HD zoom
90° field of view
Full HD 1080p 30fps
H.264 UVC 1.5 with Scalable Video Coding (SVC)
Autofocus
5 camera presets
Far-end control (PTZ) of ConferenceCam product (with supported services)
Kensington security slot
Video mute/unmute LED indicator
Standard tripod thread

REMOTE CONTROL

Camera, speakerphone, and call control
5 camera presets
Docks on speakerphone
IR 8.5 m/28-foot range
CR2032 battery (included)

SPEAKERPHONE

Full-duplex performance
Acoustic echo cancellation
Noise reduction technology
Ultra-wideband audio
Pairs with mobile devices via Bluetooth and NFC
LCD for caller ID, call duration and other functional response
LEDs for speakerphone streaming, mute, hold, and Bluetooth
Tactile buttons for call answer/end, volume and mute, Bluetooth, and camera controls
5 camera presets for pan, tilt, and zoom settings
Kensington security slot

MICROPHONES

Pickup range: 6m / 20 ft
Pickup range with expansion mics: 8.5 m / 28 ft
Four omnidirectional, beamforming microphones
Frequency response: 100Hz – 11KHz
Sensitivity: -28dB +/-3dB
Distortion: <5% from 200Hz

HUB / CABLES / POWER

Central Hub connects and powers all components
Under-table mounting adhesive included
One cable to camera: 5 m / 16 ft
One cable to speakerphone: 5 m /16 ft
Extended cables available (10 m and 15 m)
One USB cable for connection to PC/Mac (2 m / 6.6 ft)
AC Power adapter with regional plugs
Power cable (3 m / 9.8 ft)

MOUNT

Dual-purpose bracket works for both wall mounting and tabletop elevation

COMPATIBILITY AND INTEGRATIONS

Plug-and-play USB connectivity
Works with most any video conferencing application or meetings service
Skype for Business certified
Microsoft Cortana® certified
Cisco Jabber® and WebEx compatible
Enhanced integration with Logitech Collaboration Program (LCP) members, including BlueJeans, Broadsoft, LifeSize Cloud, Vidyo, and Zoom

Package Contents

Camera
Speakerphone
Remote control
Two 5m / 16.4 ft cables for connection between speakerphone and hub and camera and hub
One 2m / 6.6 ft meter cable between hub and PC
Velcro for cable management
Velcro for hub to table securing
Powered hub
Power adapter with regional plugs and 3m / 9.8 ft cable
Mount
Documentation
Warranty card

Warranty Information

2-Year Limited Hardware Warranty

Part Number