Yealink CP920 Conference Phone
$915.00
Optima HD IP Conference, 5-way conferencing, built-in 3 mic array, 20-foot (6m)
360° voice pickup, USB call recording, 3.1-inch 248×120 LCD, Built-in Wi-Fi, Built-in
Bluetooth 4.0, Power adapter. Local 3-way PSTN conference via optional Yealink CPN10
1 year warranty
Description
CP920 Conference Phone
Yealink designs its audio conferencing solutions to suit a range of different meeting environments. The CP960 and the CP920 address today's audio conferencing challenges and unify a clear-and-easy conferencing communication experience for both in-room and remote participants. The CP960 targets mid-to-large-sized meetings while the CP920 covers small-to-mid-sized meetings.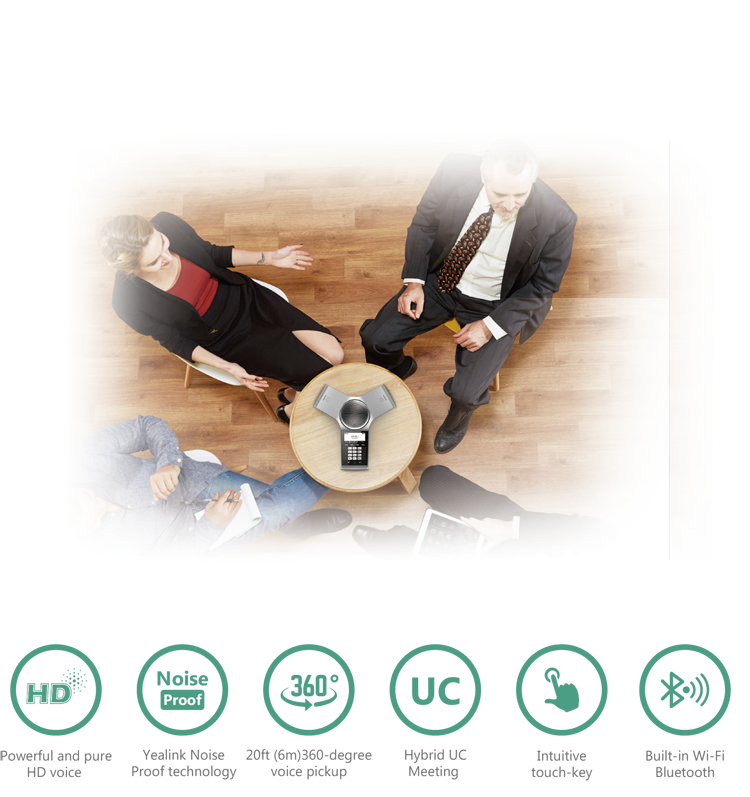 Pure and Powerful Sound Quality
Enterprise-grade and performance-oriented, Yealink conference phones deliver best-in-class HD audio quality for everyone in a meeting to keep pace with the team's collaboration and contribute inspired work.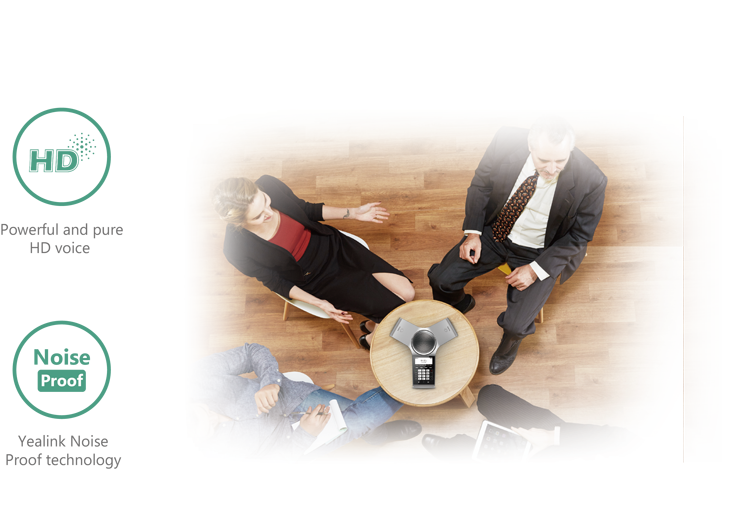 Wide-range Voice Pickup, Dead-zone Free
Featuring 20-foot 360-degree dead-zone-free voice pickup, the coverage area of the CP920 adapts to multiple room environments and provides a full sound experience.
Yealink Noise Proof Technology for Smart and Powerful Noise Elimination
Yealink's Noise Proof Technology frees business voice collaboration from annoying noise and optimizes conference efficiency by minimizing distractions. The Yealink Noise Proof technology includes two interrelated functions:
· During a conference, Noise Proof reduces constant background noise from sources such as typing, air conditioners, etc.; and
· When a person is not speaking, Noise Proof automatically mutes the mic(s) until the sound of a human voice is detected.
Ergonomic Design, Best-in-Class Experience
Stylish and professional, Yealink conference phones adopt a Y-shaped metallic sliver body design. For users who prefer a traditional key system, the CP920 offers a familiar touchable keypad for less stress and more comfort.
One-touch quick meeting starts and no interruption to the ongoing conversation make the CP920 incredibly user-friendly.
Hybrid UC Meeting Enabled
The CP960 and CP920 enable the Hybrid UC Meeting for extraordinary convenience. With Bluetooth and USB connectivity, you can easily pair the conference phone with a PC or mobile phone. Join or create a conference by simply merging the calls.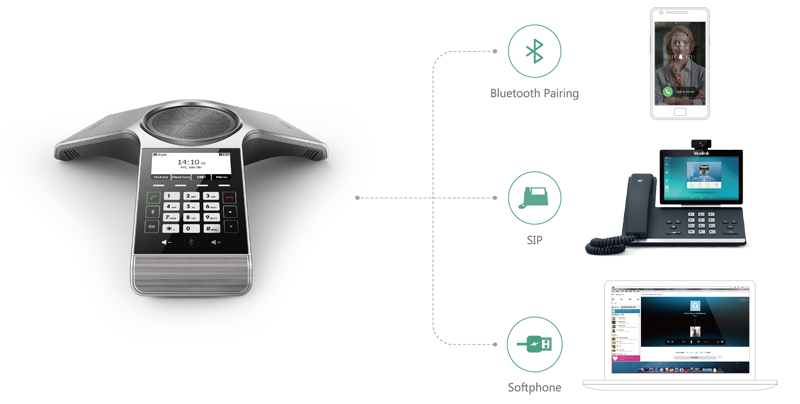 Model
CP960
CP960-WirelessMic
CP920
CP920+CPN10
CP930W
CP860
 
 
 
Download
Datasheet
Datasheet
Datasheet
Datasheet
Overview
Operating System
Android 5.1
Linux
Linux
RTK-E
Linux
Interface
LCD
 5″ 720 x 1280-pixel capacitive touch screen
3.1″ 248 x 120-pixel graphical LCD
3.1″ 248 x 120-pixel graphical LCD
2.7″ 192 x 64-pixel graphical LCD
LCD Backlight
√
√
√
√
Touch Keypad
x
√
√
x
USB Port (2.0 Compliant)
2
1
x
1
USB 2.0 Micro-B Device Port
1(Connect to PC)
x
1 (Connect to PC)
x
Ethernet Port
10/100Mbps
10/100Mbps
x
10/100Mbps
Wired MIC
2 (Optional)
0
x
x
x
Wireless MIC
2 (Optional)
2
x
x
√
3.5 mm Jack
1
x
x
1
Security Slot
√
√
√
√
Audio Features
HD Voice
√
√
√
√
Wide-Band Codecs
G.722, G722.1C,Opus
G.722, G722.1C,Opus
Opus, G.722
G.722
Narrow-Band Codecs
G.711(A/µ), G726, G729, G723, iLBC
G.711(A/µ), G726, G729, G723, iLBC
G.711(A/µ), G.726, G.729, iLBC
 G.711 (A/µ), G.729AB, iLBC
Built-In 3-Microphone Array
√
√
√
√
Microphone Pickup
20ft
20ft
13ft
20ft
10ft
Yealink Noise Proof Technology
√
√
√
x
Noise Suppression
√
√
√
√
Connectivity
Built-In PoE
IEEE 802.3af
IEEE 802.3af
x
 IEEE 802.3af
Built-In Bluetooth
Bluetooth 4.0
Bluetooth 4.0
Bluetooth 4.0 (For mobile phone)
x
Built-In Wi-Fi
802.11a/b/g/n/ac
802.11b/g/n
x
x
Battery
x
x
 Li-ion,3.6V 7800mAh
x
Talk Time
x
x
24h
x
Standby Time
x
x
360h
x
Telephony Features
Recording
√ (Via USB flash drive)
√ (Via USB flash drive)
√ (Via Micro SD card)
√ (Via USB flash drive)
Five-way Conferencing
√
√
√
√
Create meeting directly
√
x
x
x
Yealink Active Speaker
√
x
x
x
Hybrid UC Meeting
√
√
√
x
PSTN
x
x
√
x
√ (Via Yealink CPN10)
Star Connection
√ ( up to 4 units)
x
x
CPN10
Yealink PSTN Box
Used in combinationwith Yealink IP Conference Phone CP860/CP920, the CPN10, as a new productdesigned by Yealink, is a PSTN box to meet the demands in some countries andareas which are still using the public switched telephone network (PSTN). Withthis PSTN box CPN10, our Yealink CP860/CP920 can both support the conferencing callbased on SIP protocol and PSTN. With one PSTN cable inyour meeting room, you can easily connect the PSTN box CPN10 with Yealinkprofessional conference phone CP860/CP920 and start up your local three-wayconference. Meanwhile, plus CP860's/CP920's HD audio quality, build-in 3 microphonearray, full-duplex technology, acoustic echo cancelling technology as well asits rich call handling features, such as USB call recording, linkage to mobilephones or PCs, you can conveniently enjoy the conferencing call easily withexcellent speech quality in your meeting room.
Features • Support Yealink IPConference Phone CP860/CP920 • Plug and play • Easy to use • No additional power needed • USB call recording • Support up to 2 cascaded CPN10 to setup PSTN conference Specification Features • USB call recording • Support up to 2 cascaded CPN10 • Support both SIP and PSTN modes • Linkage to mobile phones or PCs Package includes: • 1 x PSTN Box CPN10 • 1 x 3m PSTN Cable • 1 x Double-side Tape • 1 x Quick Start Guide Physical features: • 1 x USB 2.0 port • 1 x RJ11 port • Dimension (W*D*H): 73mm*48m*15mm • Operating humidity: 10~95% • Storage temperature: -10~50°C • Opearting temperature: 0~50°C Package features • Qty/CTN: 40 PCS • N.W/CTN: 4.0 kg • G.W/CTN: 5.0 kg • Giftbox size: 131mm*90mm*35mm • Carton Meas: 390mm*220mm*262mm